A 30-year-old story about how an inexperienced me became a natural farming farmer ② About Yusandou
①Established Yusando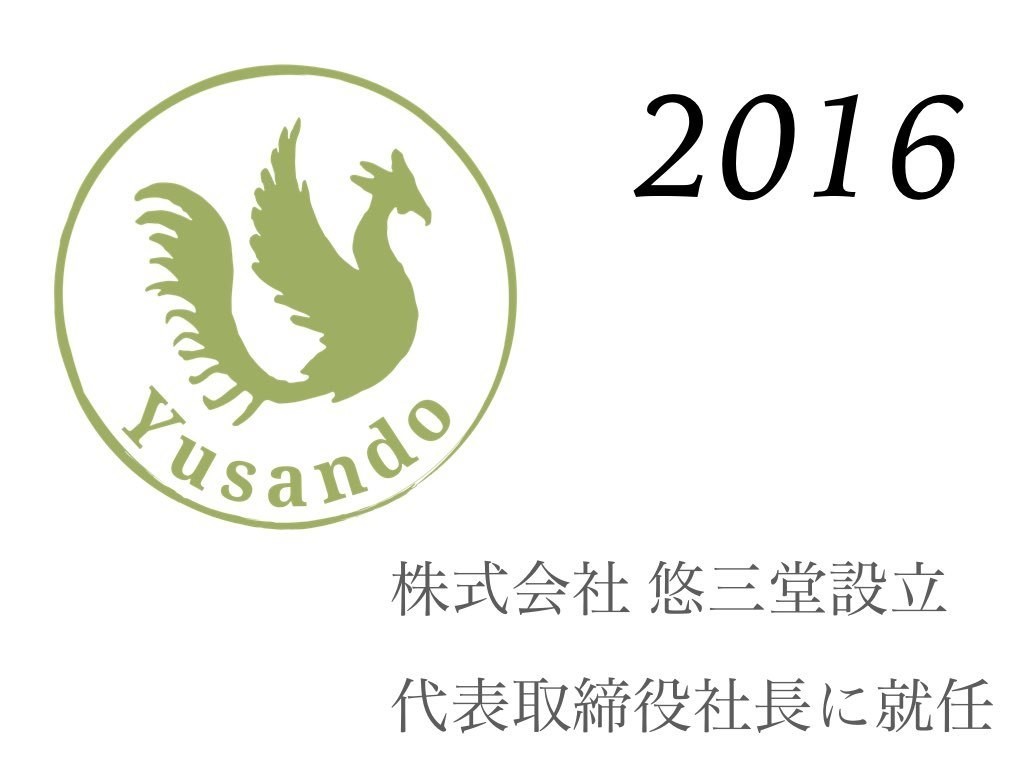 In 2016, when I acquired a large tea plantation in Nara, I suddenly had the opportunity to become an independent farmer. First, we were able to rent a tea plantation of 6 hectares, and we were also able to rent a nearby tea plantation. When the total area exceeded one town, I established Yusando Co., Ltd. in anticipation of future prosperity. When I first said I was going to farm, my friends worried a lot, but when I told them that I had created a company and became the president, they were all very happy (laughs). I think it would be much easier to create a company and become president, but anyway, the title of "Representative Director" is pretty powerful. (smile)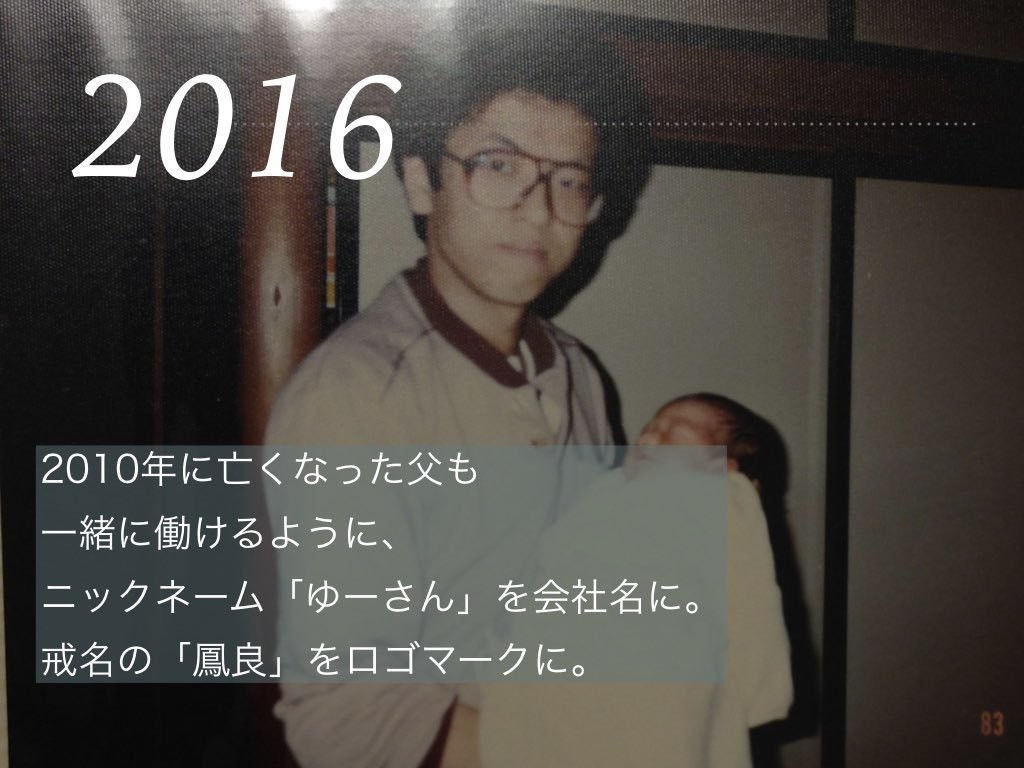 In order for my late father, who loved and raised us with care, to work together with us, we used his father's nickname, Yu-san, as the store name, and the posthumous posthumous name, "Horyo", as the logo mark. The logo was created by Ken Baughman, an American graphic designer.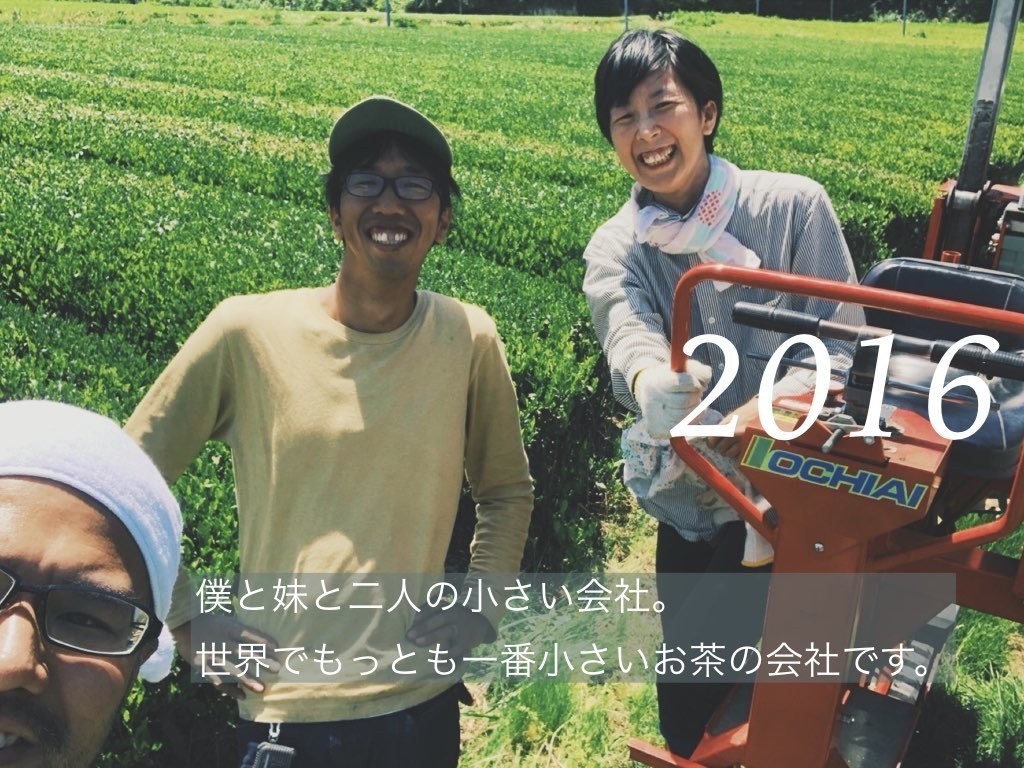 Yusandou is a small company owned by my sister who is a year younger than me. Looking back, I never imagined that the two of us could work together. She is a hard-working, sociable, wonderful sister.
②Yusando tea making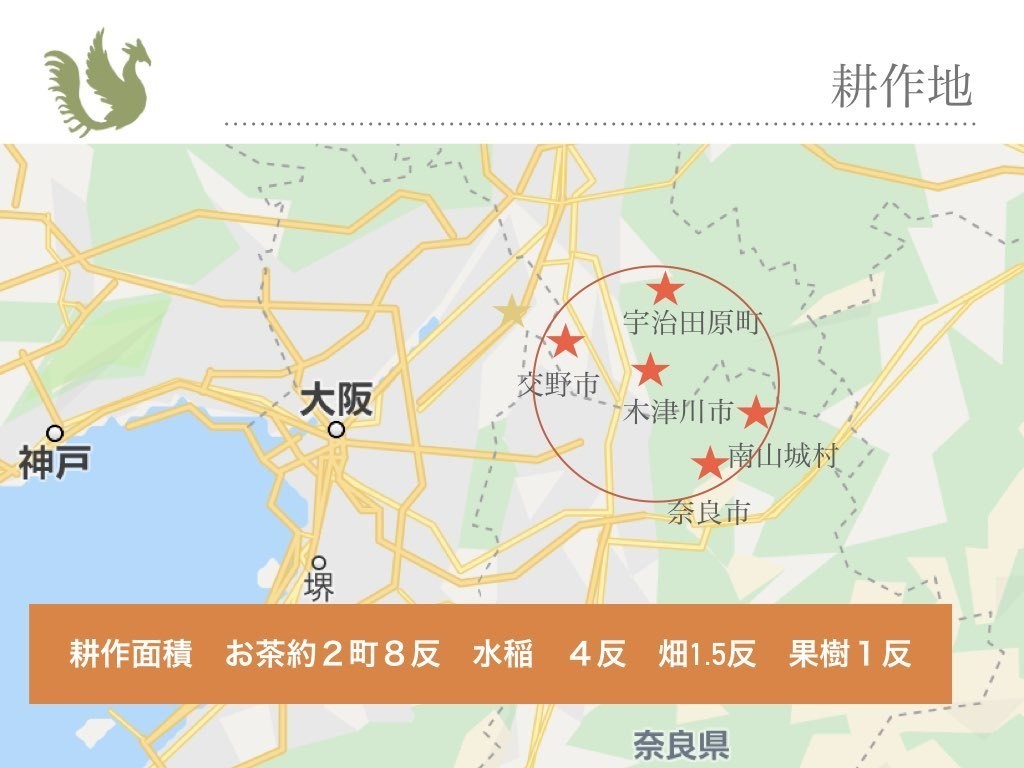 Our fields, which started with new farming, are scattered in various places. Today, we grow tea in more than two towns, and we also grow paddy rice, vegetables, grapes and plums.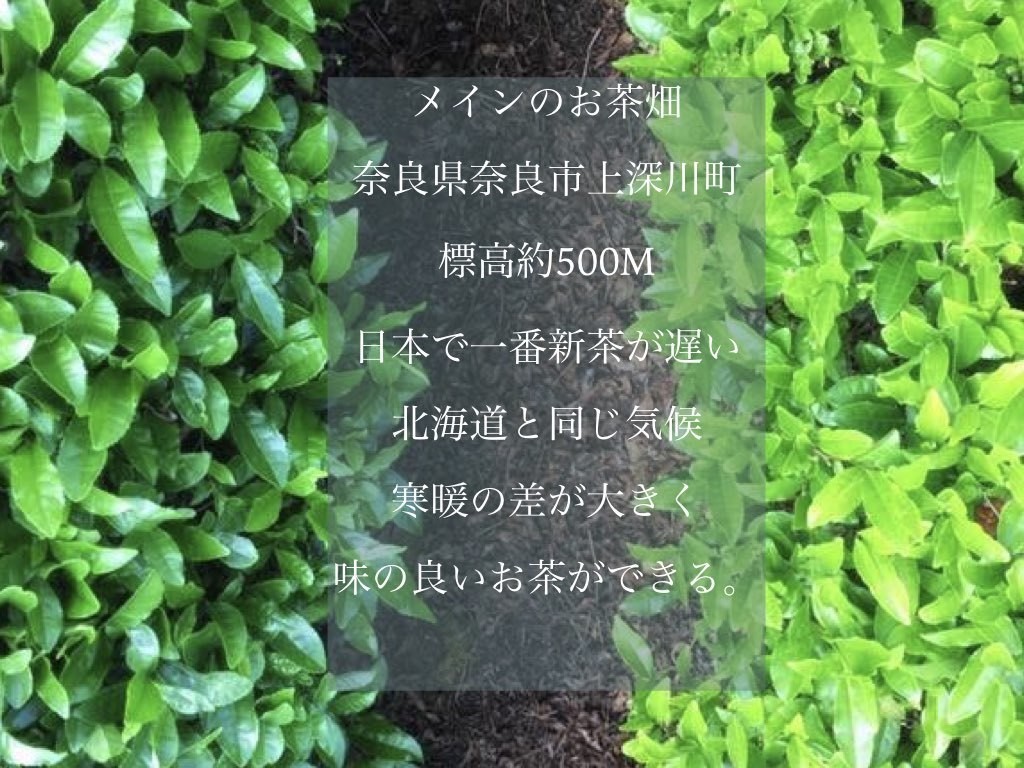 The main tea fields are located in Kamifukagawa-cho, Nara City, Nara Prefecture, on the Yamato Plateau. It is a plateau with an altitude of about 500m. It is said to be the best in Japan, and it is a region where new tea is slow. It is an area where delicious tea can be harvested because of the large temperature difference between day and night. From the beginning, we have been cultivating with the Shumei natural farming method.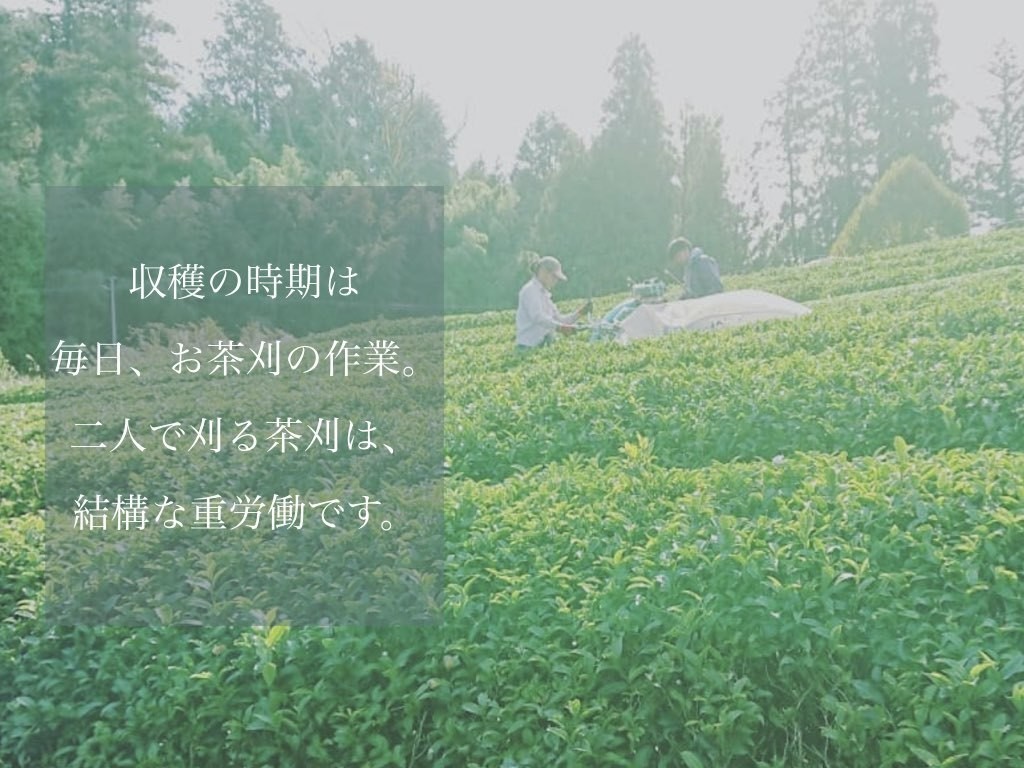 Busy days follow when the tea harvest season begins. It's a lot of hard work, so it's fun to look in the mirror when I'm gaining muscle during this time (laughs).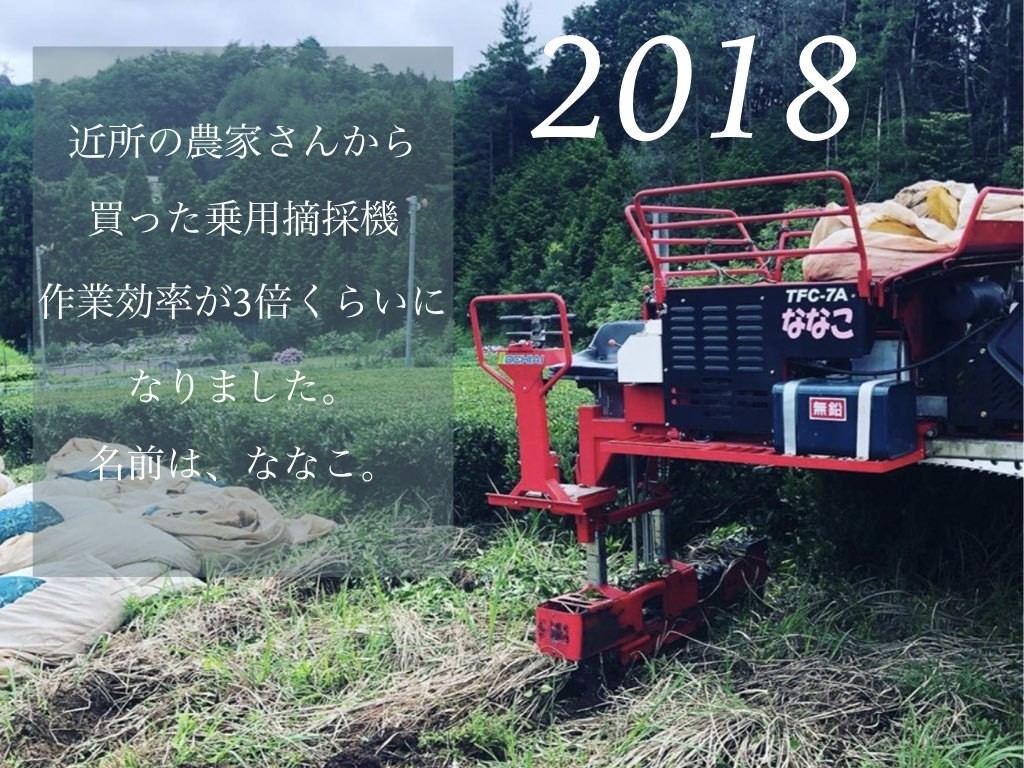 In 2018, I bought a riding plucking machine from a local farmer. Work efficiency has tripled. The name of the machine is "Nanako". It's a cute name, so it can be misunderstood. (smile)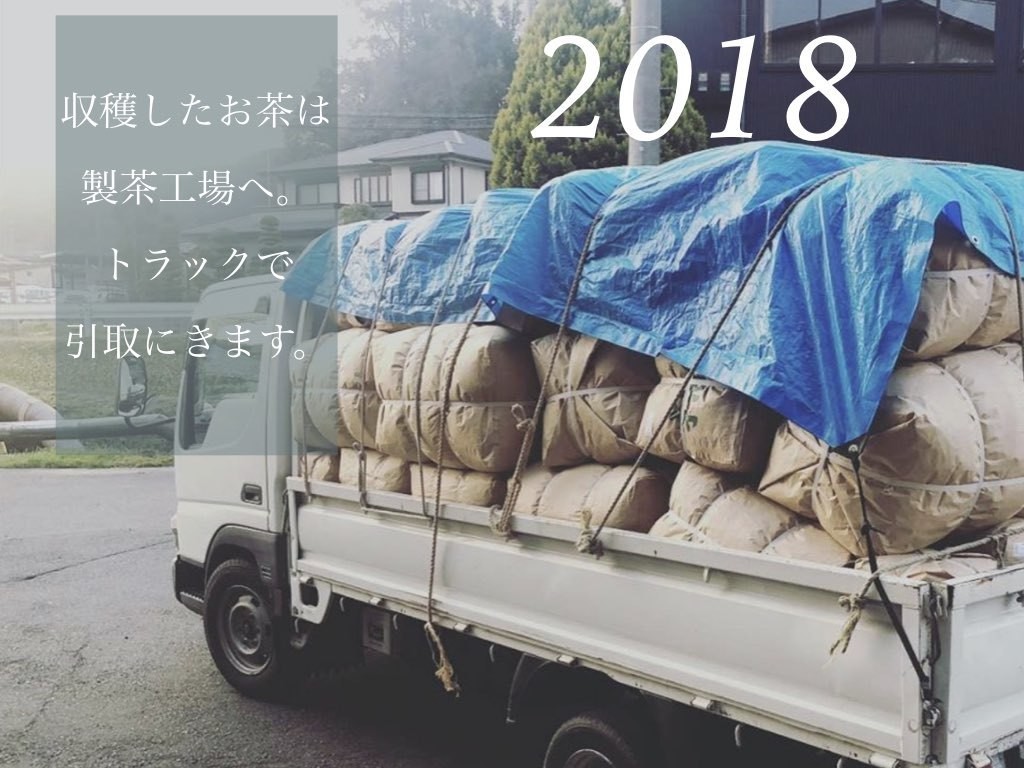 Tea is mainly made at a tea factory that specializes in organic farming. The amount of tea, which was small at first, gradually increased.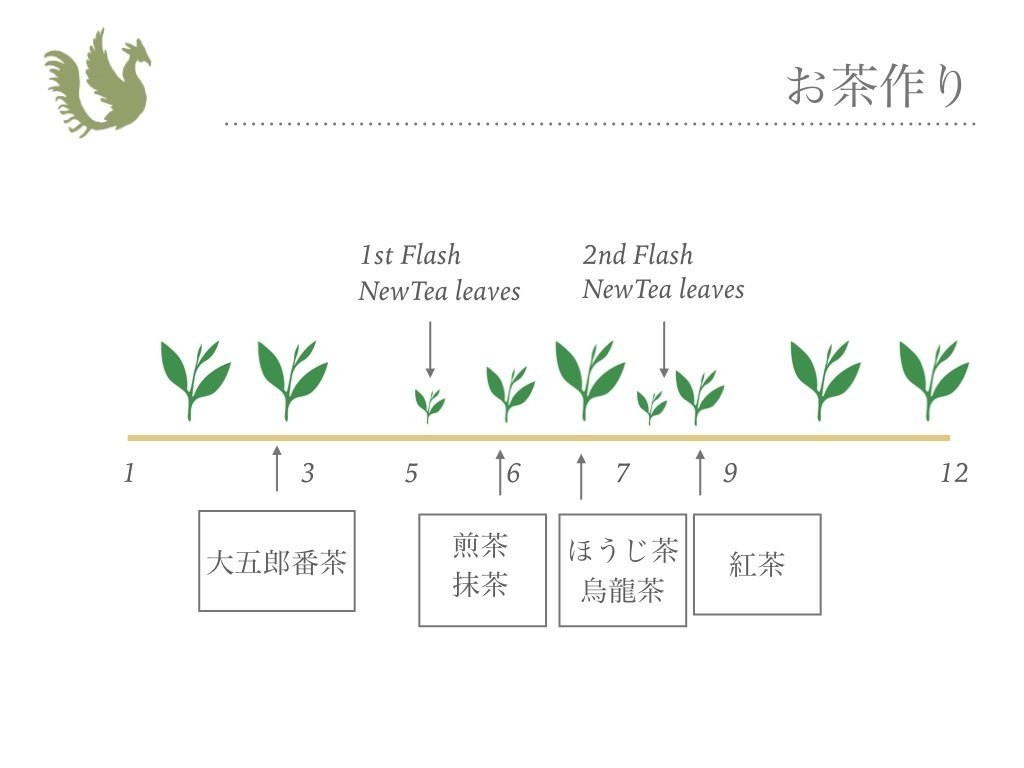 It is said that the natural cultivation of tea, which is generally said to use the most fertilizers and pesticides, is very difficult. The tea leaves are harvested carefully so as not to burden the tea trees as much as possible in order to prevent the yield from dropping and the vigor of the trees to decline. We do not stick to only 1st bancha, but try to make tea that you can enjoy in your daily life.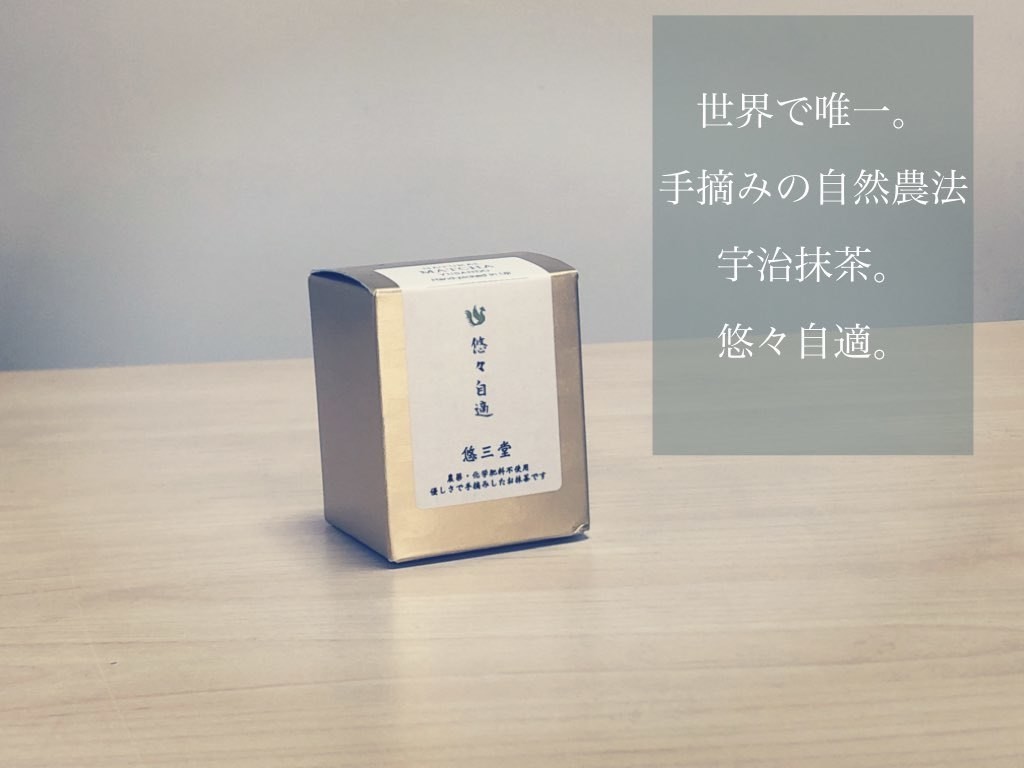 Matcha.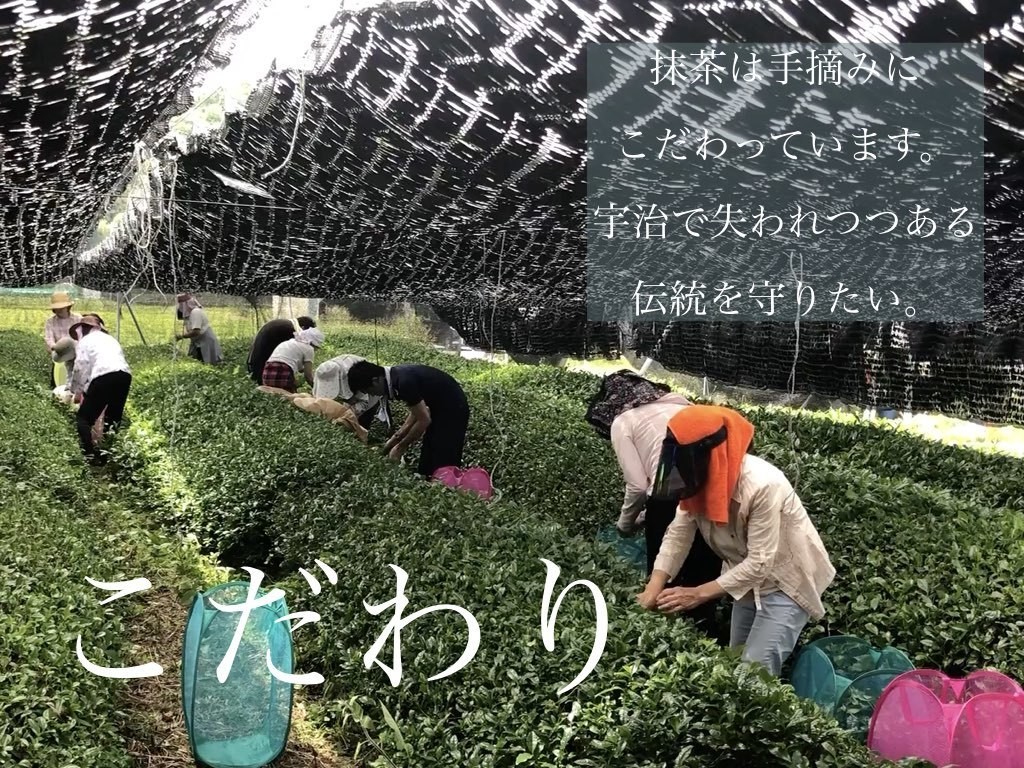 Matcha is the world's only naturally farmed hand-picked Uji matcha.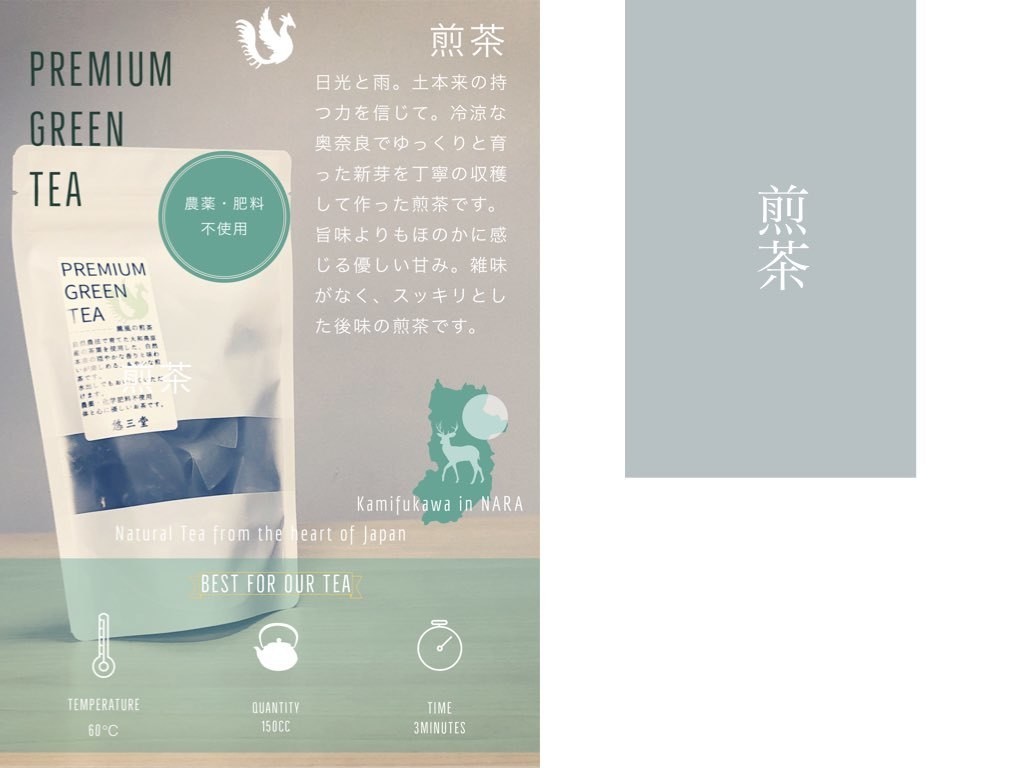 Sencha.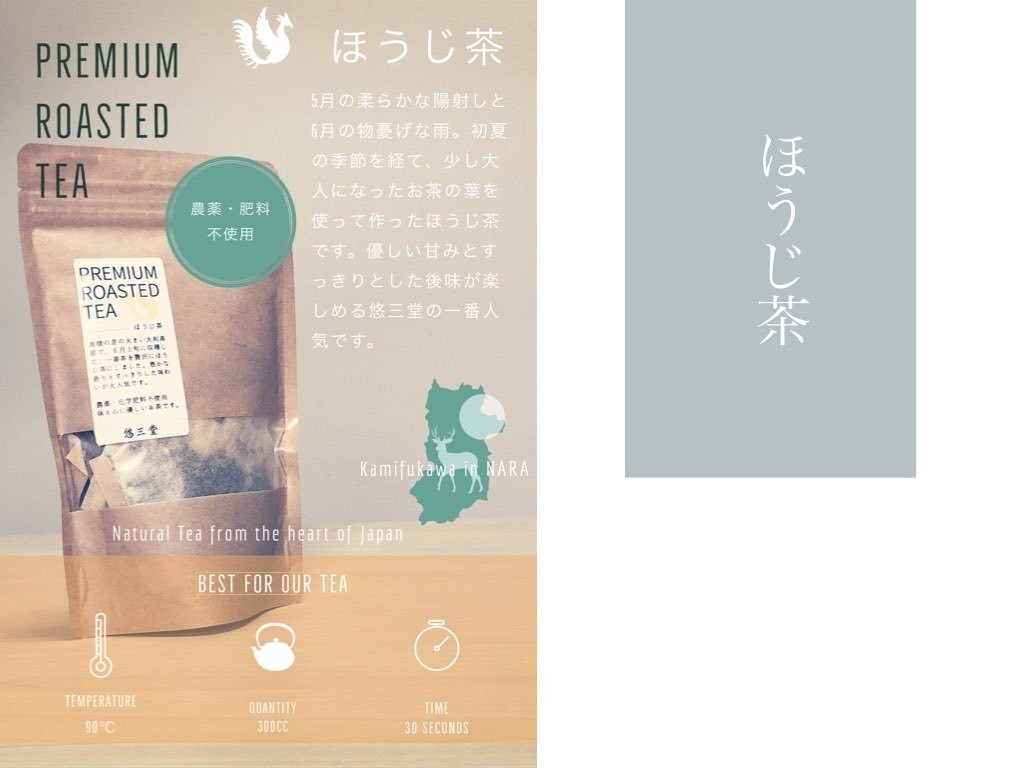 roasted green tea.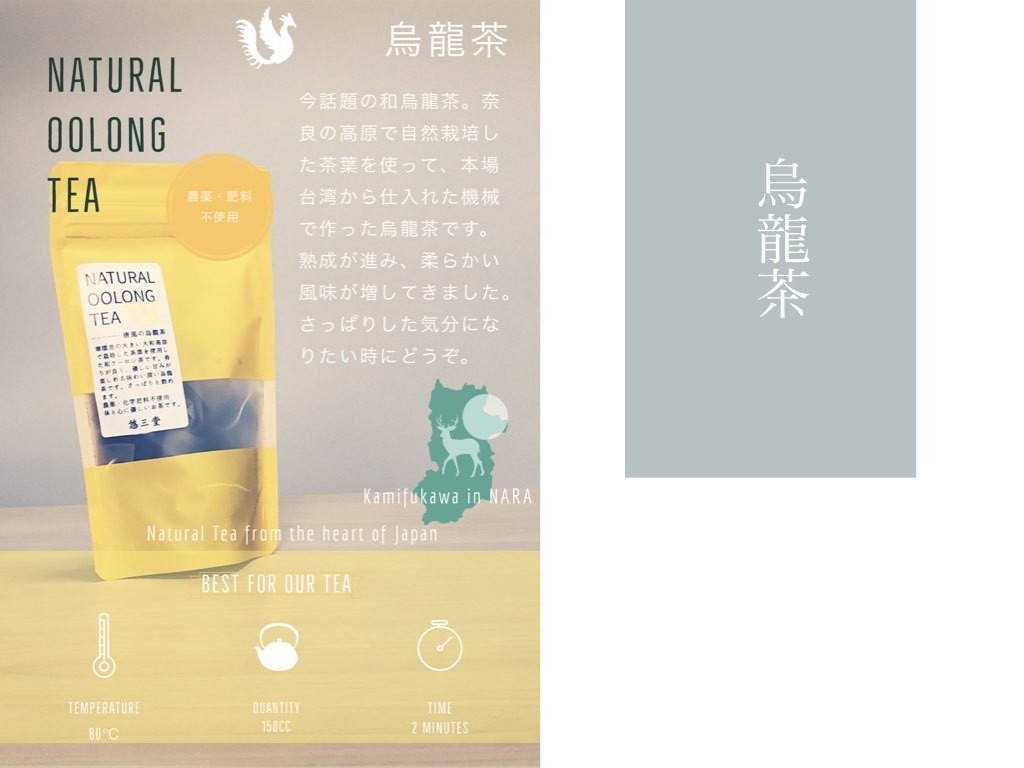 Oolong Tea.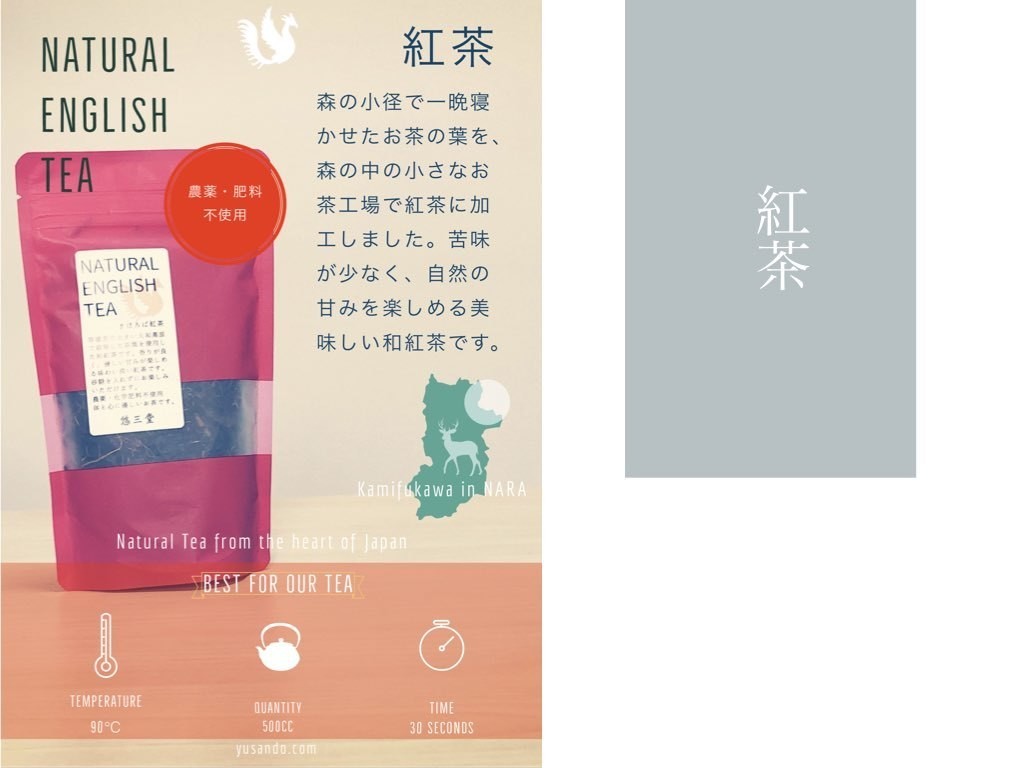 black tea.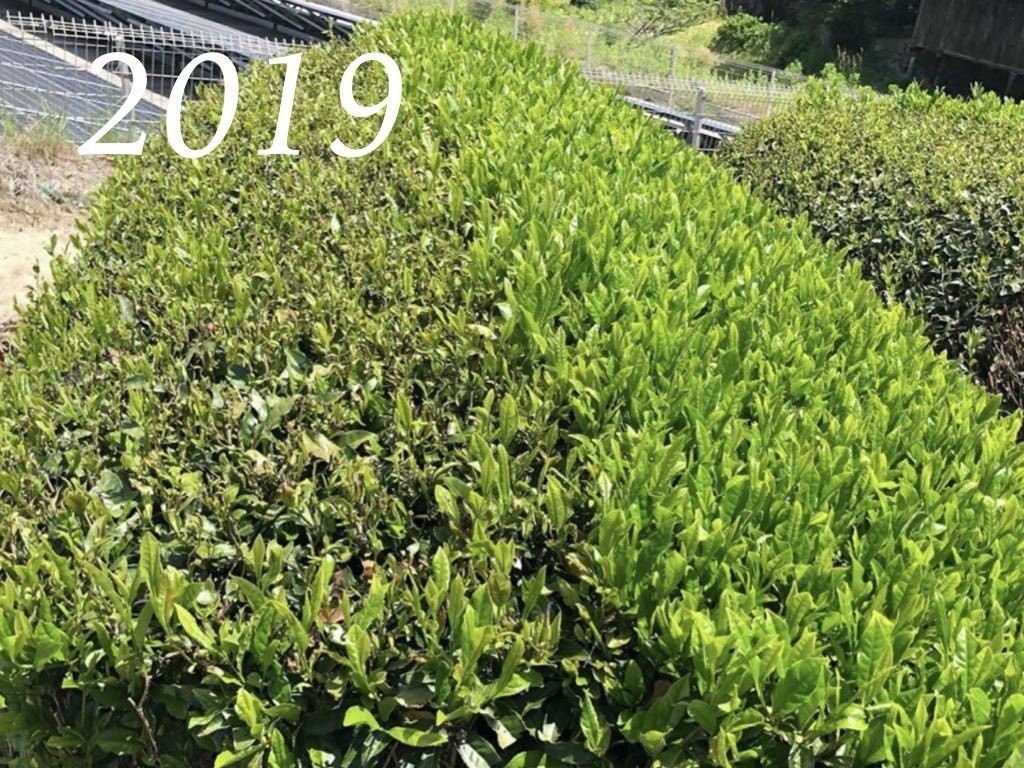 Also, last year, due to the late frost, a lot of new tea leaves were destroyed.
The natural farming tea trees were strong, and new shoots sprouted after a month, and we were able to harvest them safely.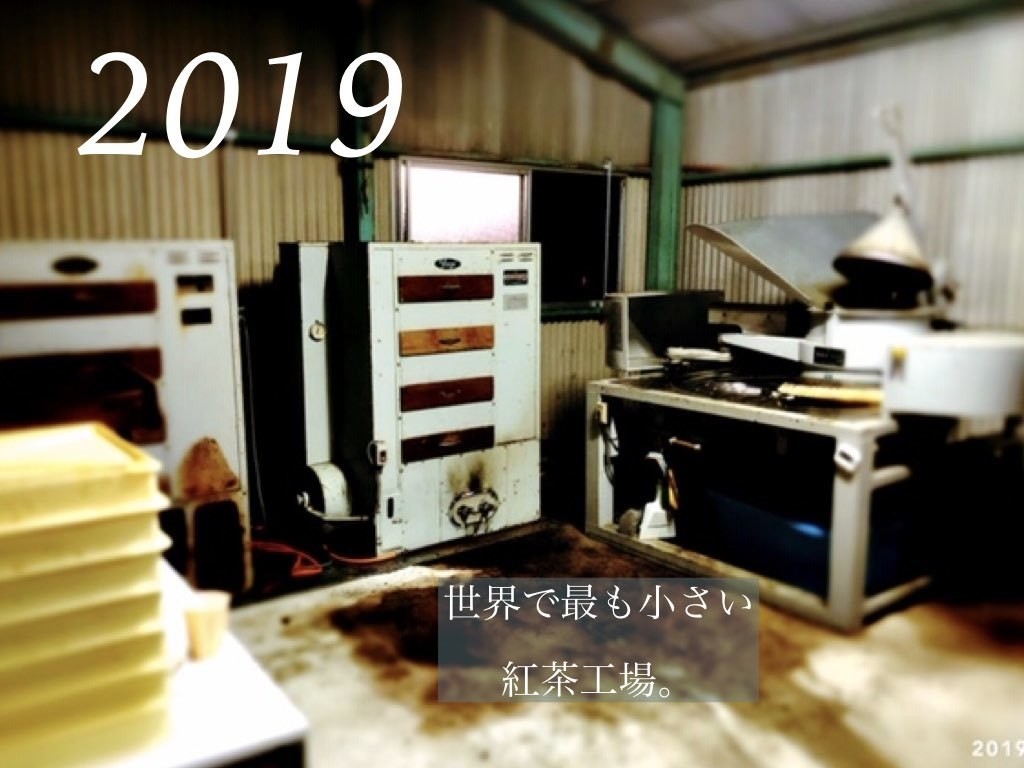 Last year, we built a new tea processing plant by ourselves. It is now possible to process black tea in a way that is as close to nature as possible.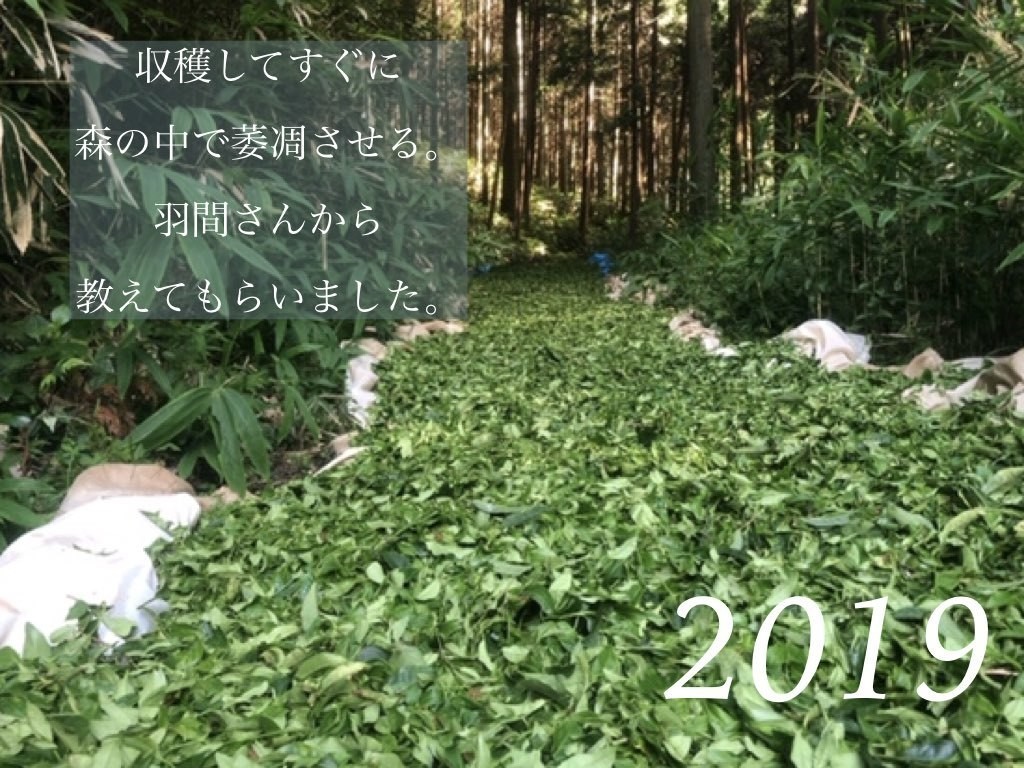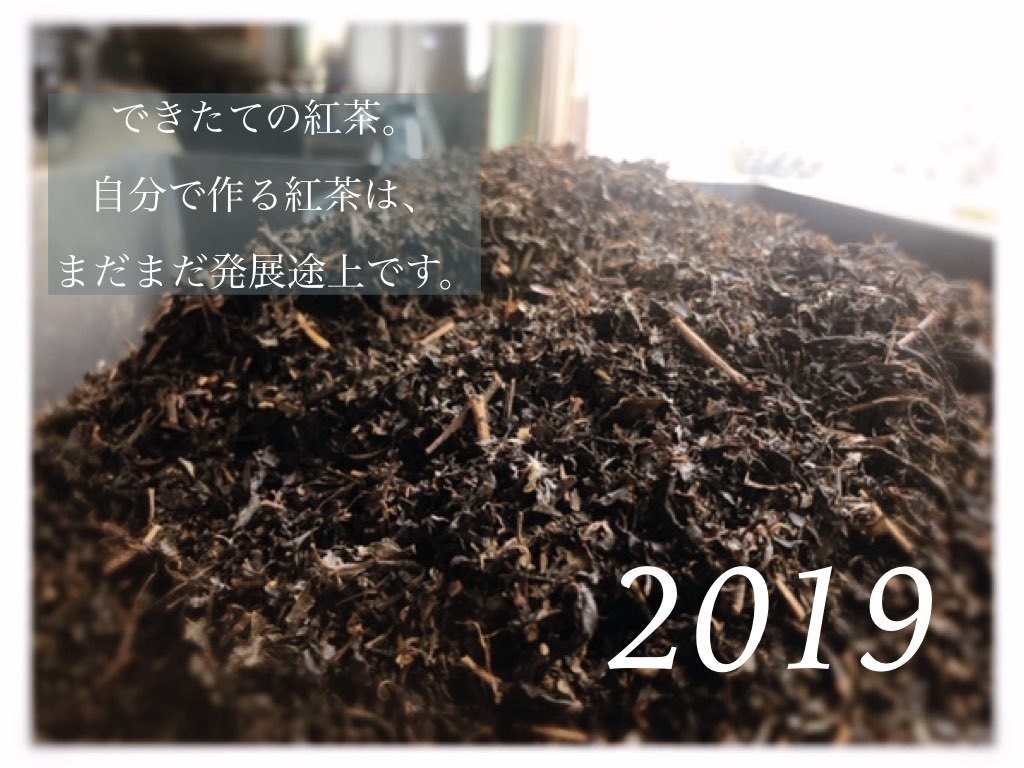 It is often said that the taste of tea has changed considerably. We are planning to make more and more delicious teas, so please look forward to it (laughs).
③Yusando's commitment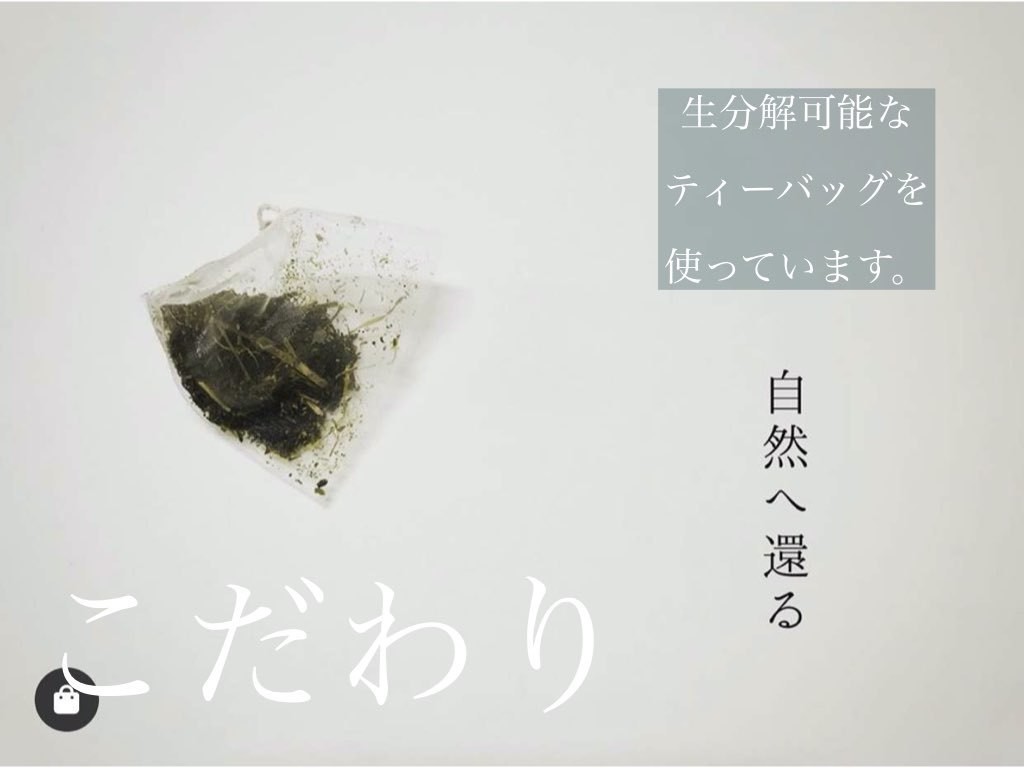 Three years ago, we completely abolished the use of plastic tea bags. Now, we only use tea bags made of vegetable material called Soi Ron Mesh and unbleached paper tea bags.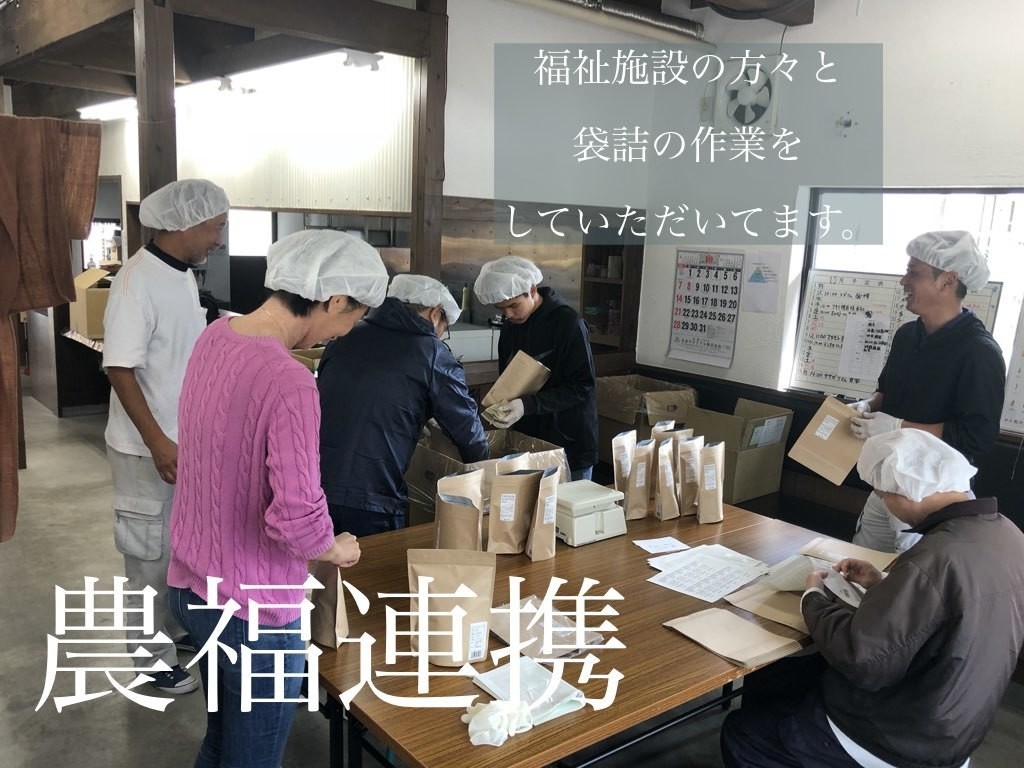 We ask welfare facilities to pack the bags. The quality has improved.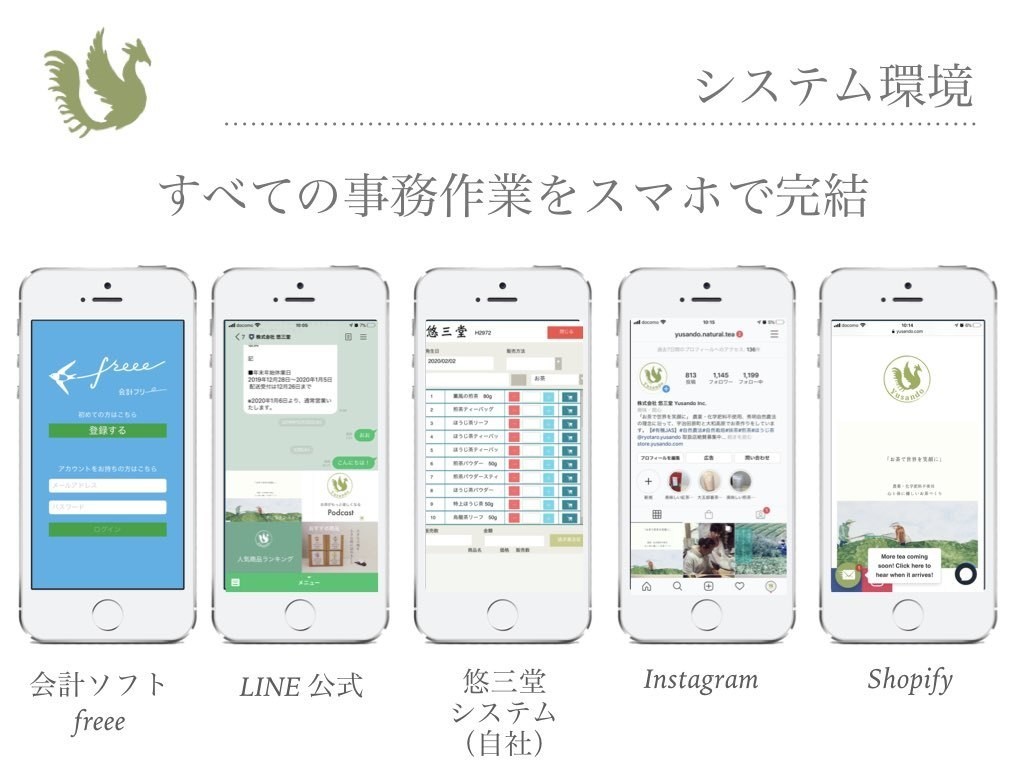 There are only two employees, so we are trying to thoroughly improve efficiency and share information. The division of roles is
Me - Farming and Accounting, Systems and Design
Younger sister - bagging, sales, shipping, gimmicks and events
In order to systemize and improve efficiency as much as possible, I use various services so that most of my work can be done on my smartphone. ① Yusando solution (homemade) ② Cloud accounting software "freee" ③ EC site → "shopify" ④ Communication → "LINE official" ⑤ SNS transmission → "Instagram"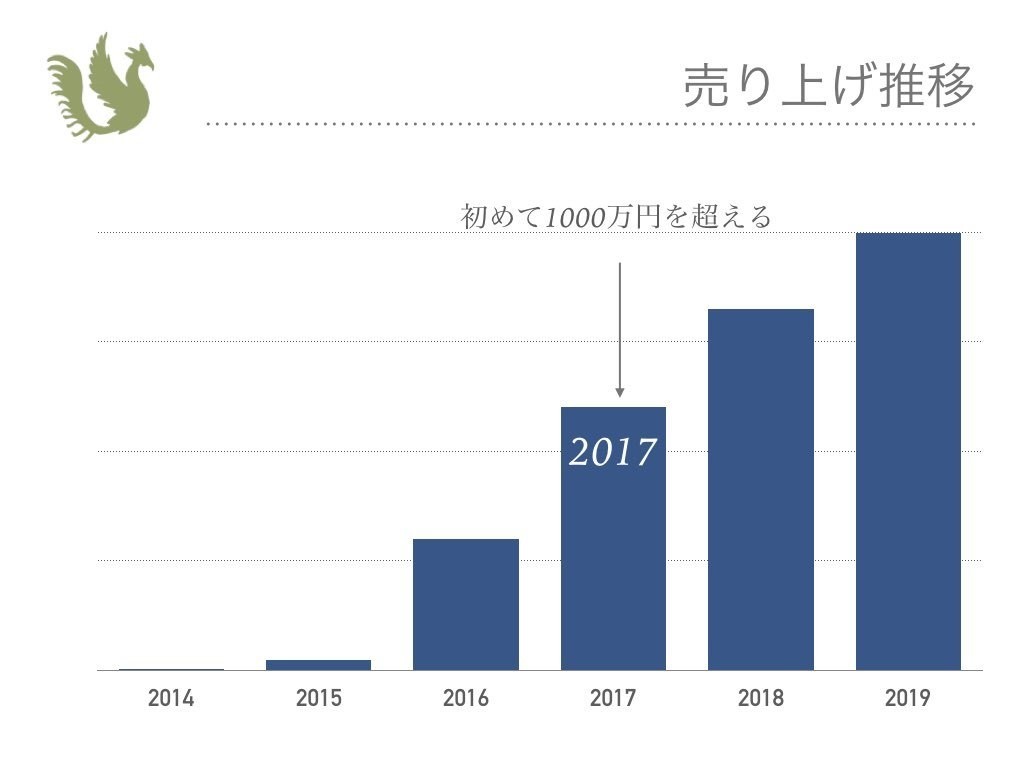 Sales exceeded 10 million yen for the first time in 2017.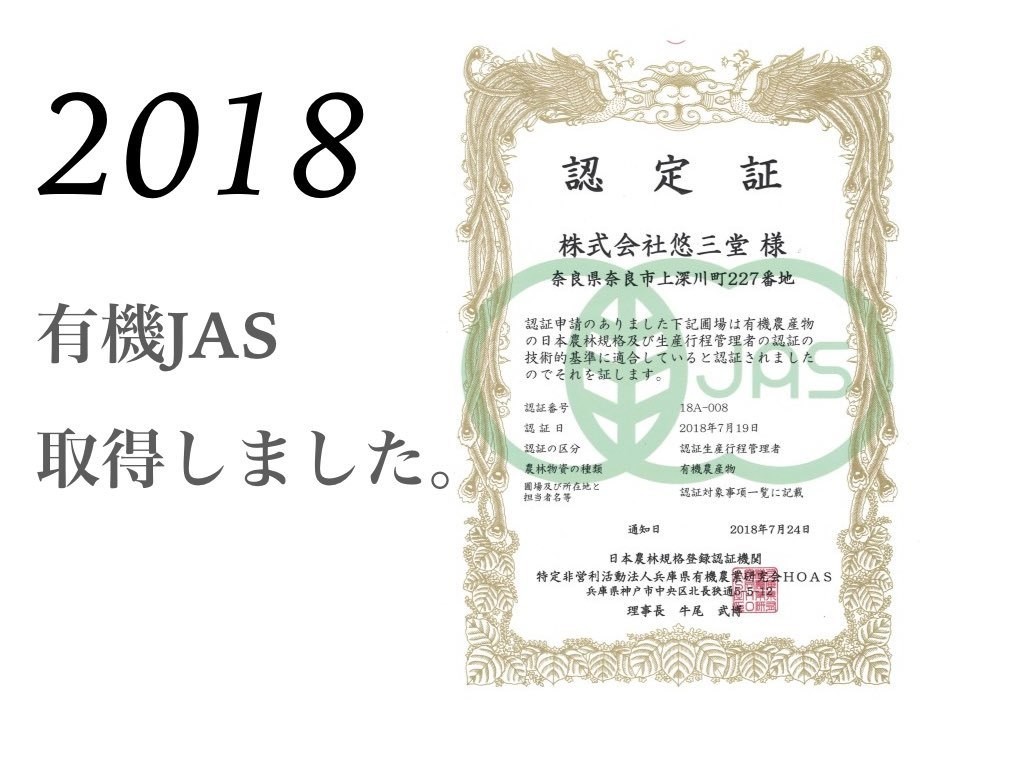 We also had to find a buyer ourselves, so we worked hard to get the certification as soon as possible. It costs about 100,000 yen a year, but I think of it as a passport and continue to do my best.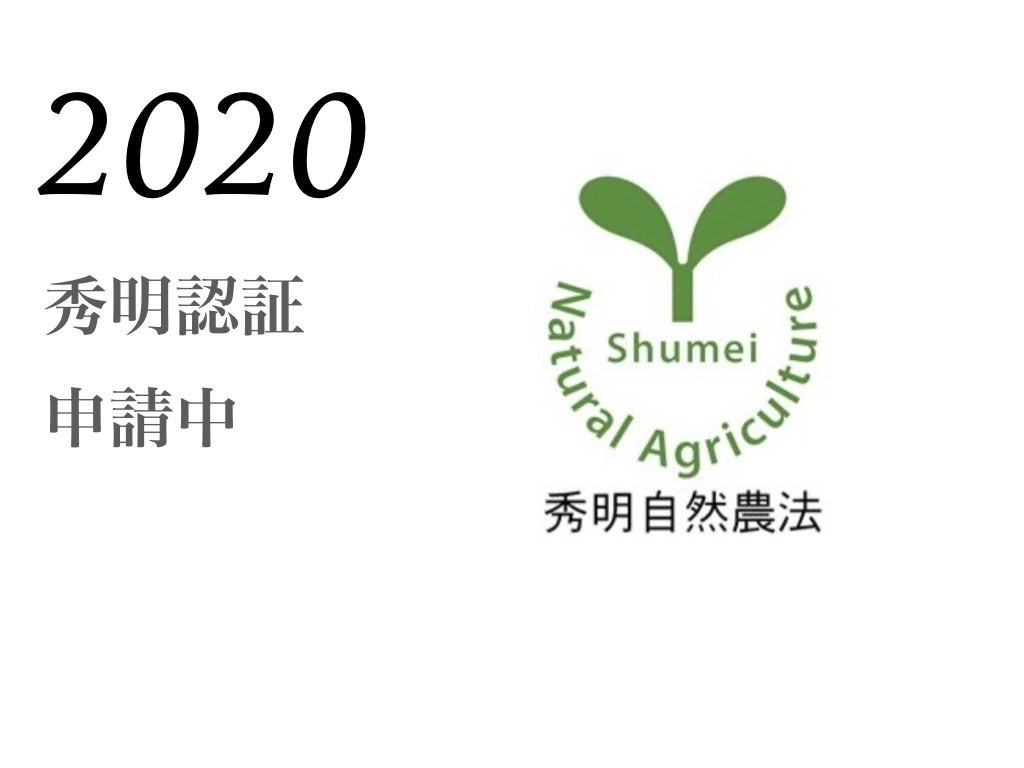 Shumei Natural Farming, the world's most rigorous natural farming method certification, only has to submit documents. There is no acquisition cost, so now is your chance to acquire it.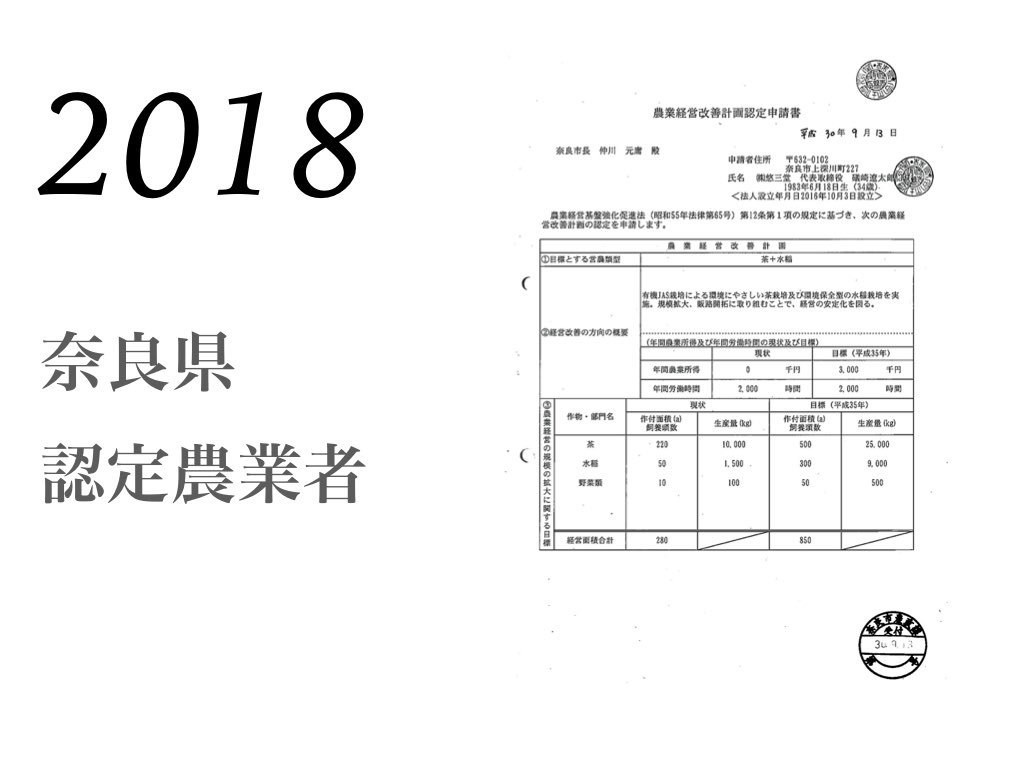 With the cooperation of the local people, I was able to quickly become a certified farmer.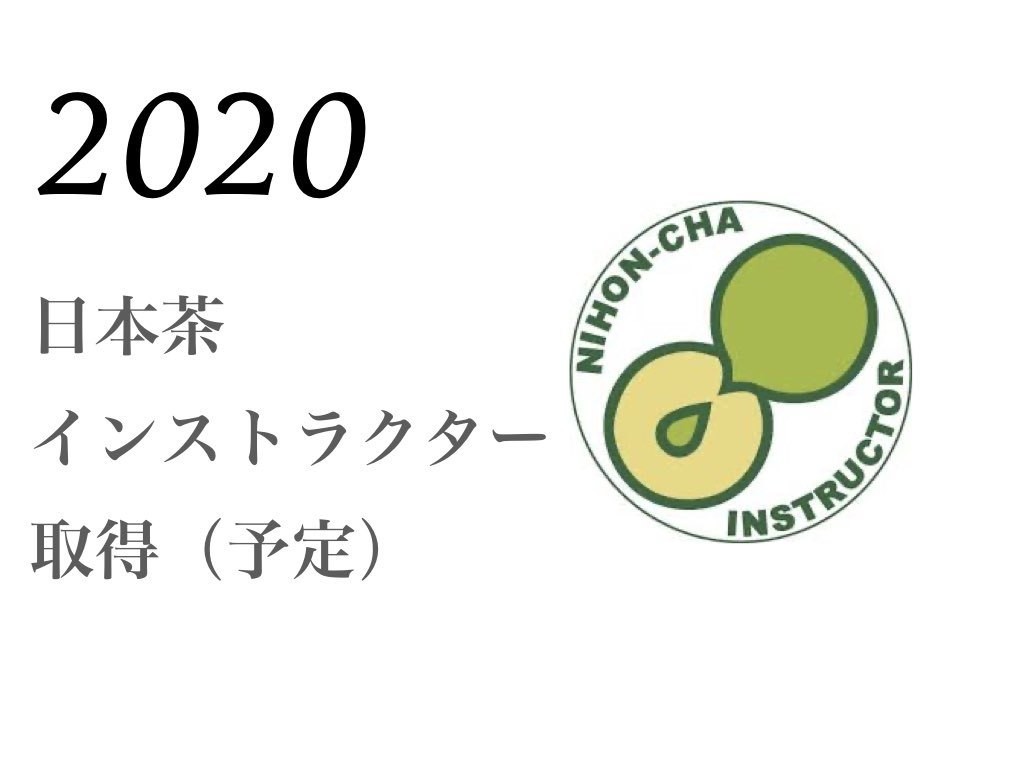 I have successfully completed the Japanese Tea Instructor exam, and now all I have to do is wait for the results. sorry if i fell lol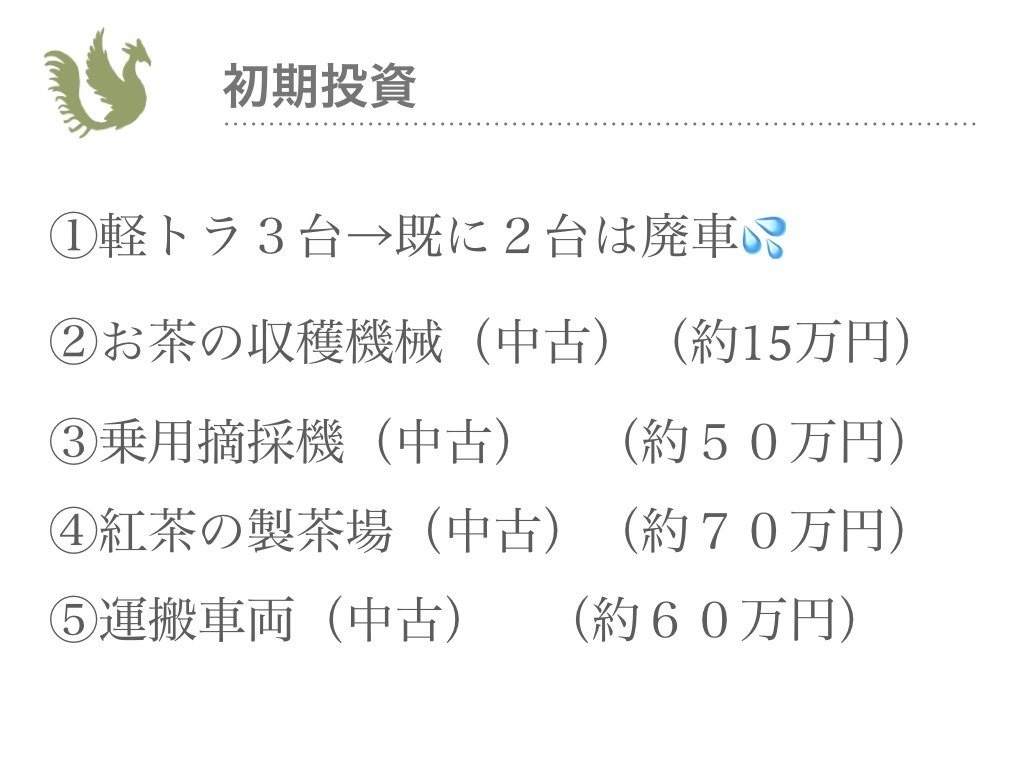 I didn't have the money to begin with, so the initial investment was moderate.
Once a year, we hold a tea party called Yu no Chakai using Yusando's matcha. To be a tea master who can make and serve tea. In addition to matcha, we also use ingredients from our own fields for our dim sum.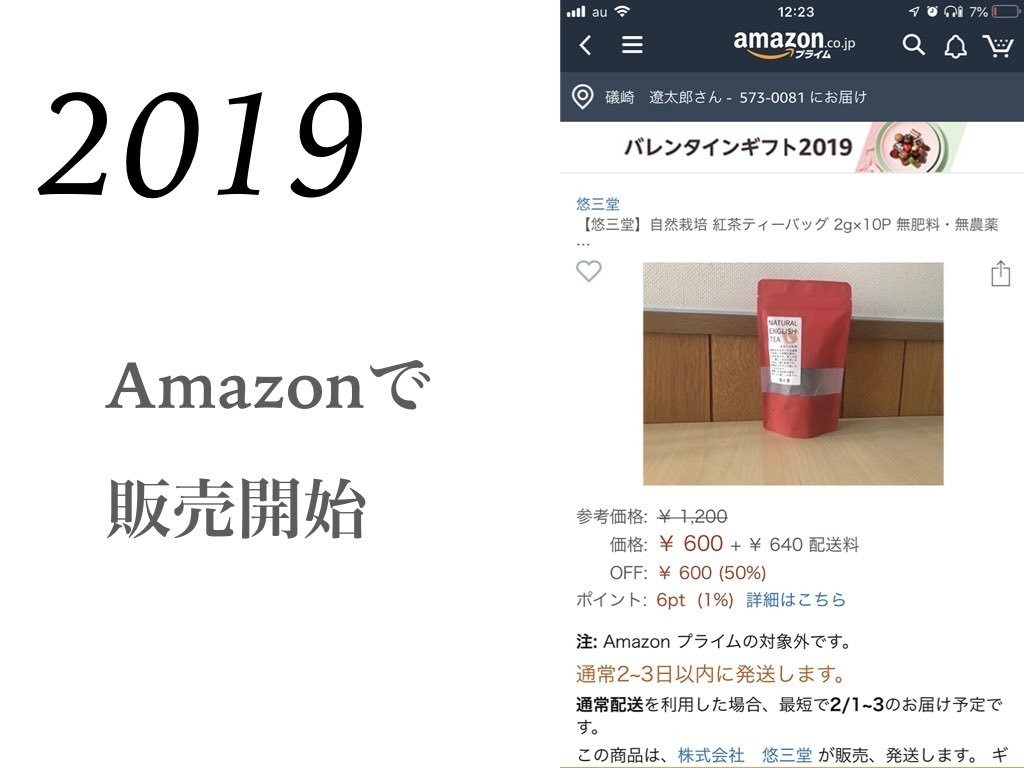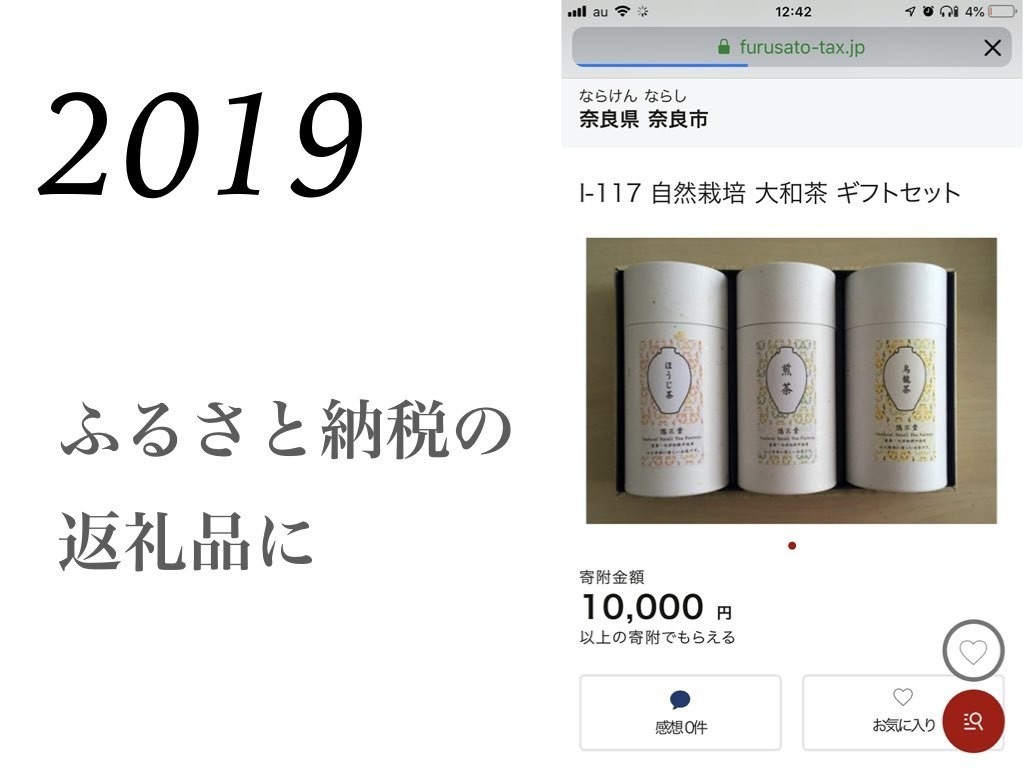 ④ What made you become a natural farming farmer?
(1) There were people around me who taught me about natural farming.
(2) Having a wife who kindly believed in me
(3) Senior producers handed over the fields
④ Obtaining a cohesive field
(5) The initial investment was relatively inexpensive
⑥ The tea was delicious (laughs)
⑦ I was able to maintain a positive mentality