October 11, 2020
[Farm Tour] Ikuetsu Farm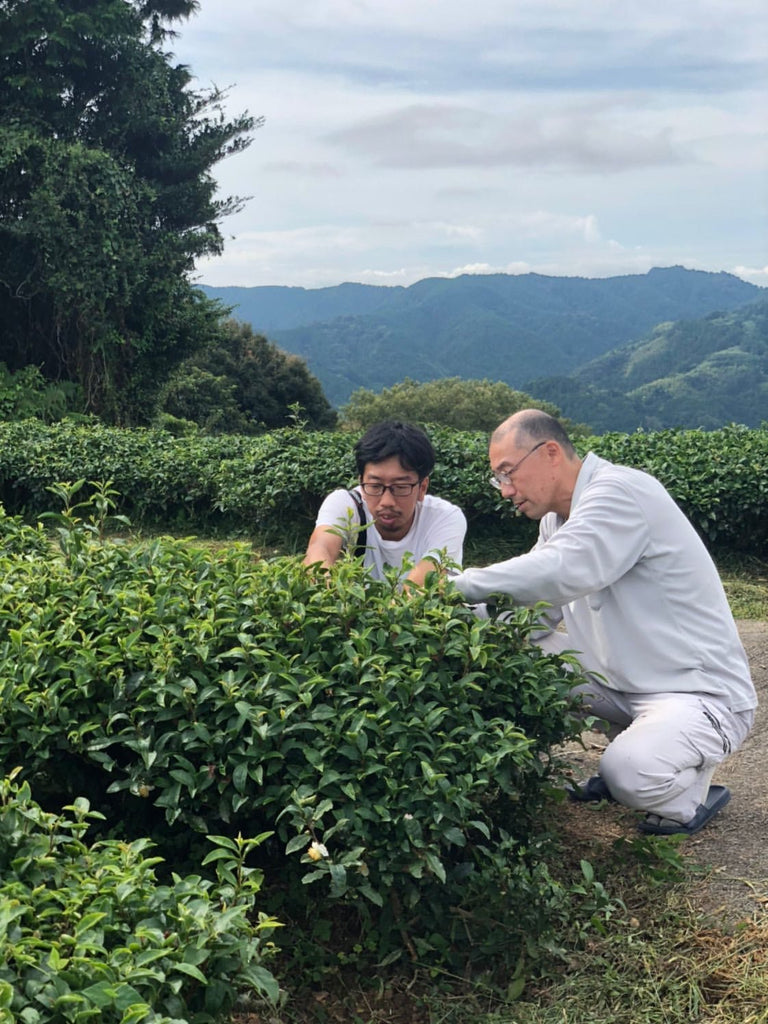 Visiting a senior tea farmer from Hideaki Natural Farming
Hideaki I visited Mr. Ikukoshi, a pioneer of natural farming tea farmers, and went to Shizuoka prefecture. It was last spring that Mr. Ikukoshi came to our tea plantation. How to maintain the vigor of tea by natural farming was a problem for me at that time, but the advice I received at that time was not easily accepted, so I actually went to see it this time.
Tea plantation in the mountains
In the morning, we met at Mizukimura in Fujieda City, Shizuoka Prefecture, and went to Mr. Ikukoshi's tea plantation. I changed from a van to a box van and climbed a narrow mountain road. There is a steep part in our tea plantation, but it takes about 15 minutes to climb a narrow narrow mountain road. Originally, there was a tea plantation managed by Mr. Ikukoshi using natural farming in an area where organic farming was popular.
How to keep the tea tree vigor by natural farming
A beautiful tea plantation in a nice place with a nice view. There was a tea plantation with a natural farming method that was almost as energetic as the conventional farming method. I visited in the middle of September. He said he was mowing and weeding for the autumn bancha harvest starting in October.
Harvest schedule of Ikuetsu Farm
| | |
| --- | --- |
| Ichibancha (early) | Sencha |
| Ichibancha (Middle) | Tea |
| Ichibancha (slow) | Hojicha |
| Medium mowing or table mowing | Bancha is cut off without harvesting |
| Autumn Bancha | Bancha → Hojicha |
I was surprised at the high yield of about 400 kg of fresh leaves per roll, and told me about the cultivation schedule for the year. After the first tea was finished, all the leaves were dropped once and returned to the land as organic matter. I see. Actually, I was convinced that March would be better if I cut it off.
I had had Mr. Ikukoshi's roasted green tea elsewhere before, but I was surprised at its refreshing taste. That must have been the best Hojicha.
Tea factory tour
I went down the mountain to see Mr. Mizukimura, who is processing Mr. Ikukoshi's black tea on a contract basis. This time, I didn't process the factory because of the off-season, but I was shown the equipment with huge processing capacity that can accept 2 tons of fresh leaves per day. I had heard in Nara that there is a machine called "Date-style" that specializes in black tea for making black tea, but it was exactly that Date-style machine that I met Mr. Mizukimura. I was overwhelmed by the machines lined up in a row.
New tea will start in Shizuoka from the end of April. New tea will start in the mountains of Nara from the end of May. Due to the difference in climate, there is a difference in harvest by one month. Warm Shizuoka and cool Yamato Kogen. For me, who prefers a warm climate, Shizuoka is truly heaven. At the same time, I also thought that I should be able to make good tea in cold places.