January 05, 2022
Yusando lucky bag 2022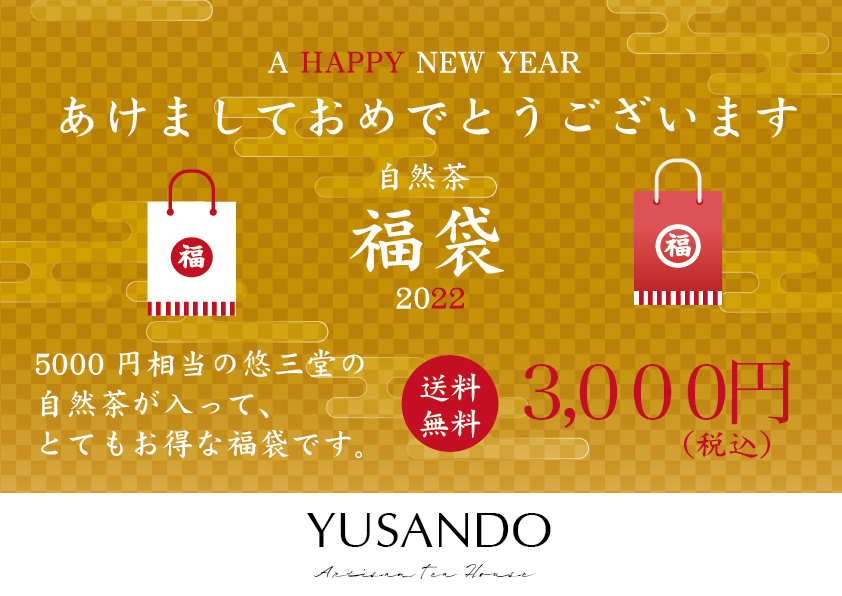 Happy New Year ☺️

From Yusando
2022, this year's fortune sharing
I made a small lucky bag.
This year's popular Hojicha tea bag, Daigoro Bancha tea bag, and large-format behavior with matcha paste.
I think the content will be enjoyable for everyone from the New Year 😊
Please enjoy the tea of ​​Yusando at the beginning of the year.
[Contents of lucky bag]
✳︎ Hojicha tea bag 4g × 50P
✳︎ Daigoro Bancha Tea Bag 4g × 50P
✳︎ Brown rice tea bag 2g × 10P

✳︎ Matcha paste 100g
✳︎ 1 bag of leaf tea (sencha, roasted green tea, black tea, brown rice tea, oolong tea, bancha)
✳︎ 1 bag of powdered tea (sencha, roasted tea, black tea)
We will sell tea with a total price of 5000 yen or more for 3000 yen including tax (tax included / shipping included) ☺️

Limited to domestic online orders.
The quantity is limited (reception is until the end of January), so it will end as soon as the stock runs out.
* We have received a large number of orders right now, and shipping may be delayed. Thank you for your understanding.
Please take this opportunity to taste various Yusando. Give you your favorite tea
Thank you.
yusando.com